---
Do You Want Fresh And Glowing Skin ?
The Strategist wrote an article saying Jade Rollers have been used by empresses and members of high society in China since the 17th century but have recently experienced a boost in popularity in the United States.
According to Dr. Jennifer Chwalek, M.D, who is a highly qualified dermatologist in New York, agreed that jade rollers can help with lymphatic drainage (removal of waste and toxins from the skin). Below are her words:
"Whenever there's stagnant circulation or swelling at all in the face, massage can help that lymph fluid drain into the [proper] channels and away from around your eyes and certain areas where it tends to settle,"
It's possible that the massaging motion of the jade roller can stimulate certain hormones and have a relaxing effect on one's well-being and stress levels, which can, in turn, positively affect acne, Dr. Chwalek explained.
Benefits Of Using A Jade Roller: 
Gives You A Brightened Complexion
Reduces Puffiness Of The Skin
Helps Get Rid Of Under Eye Circles
Stimulates Blood Circulation Of The Skin
Stimulates Lymphatic System Around Skin
Tightens Pores
Reduces Appearance Of Fine Lines
Helps Skin Care Products Penetrate More Deeply
The Coolness Gives You A Great Feel
Aside from these benefits, a lovely way to relax and get in "bedtime mode" after your skincare routine in the evening. After using the jade roller, your skin will always feel cool, calm and ready for bed.
Quick Tips:
Keep your jade roller in  refrigerator so that it is cold and refreshing when you go to use it.

You can use it at night after you've washed your face and applied your nighttime facial oil . Simply wash your face, apply your oil and roll away over your skin.
It is said that not only does this help with circulation, but it also helps your oils or serums to reach a deeper level of your skin, allowing the product to really penetrate and do its job. :)

Be Sure To Clean Your Jade Roller With Some Soapy Water After Using It
MORE ABOUT JADE STONE AND HOW TO USE IT:
SEE WHAT PEOPLE SAY:
The coolness of the jade felt quite nice on my skin ― it was soothing, as promised. The massaging motion was definitely enjoyable, and  it helped release tension in my face. 
I did notice my face looking less puffy than it normally does. There was a difference in my dark circles, I loved the feeling of the cold jade under my eyes. I did look more awake AND I felt more awake !!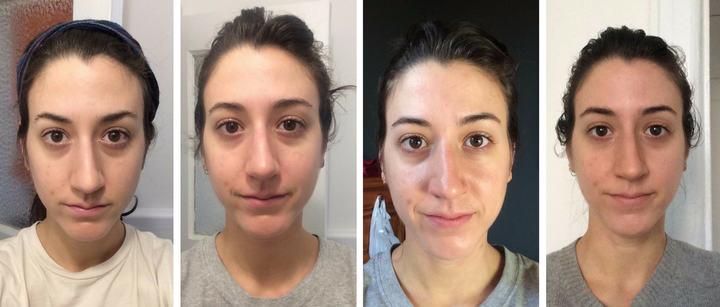 Please Leave A Review Below, Highly Appreciated :)